Healthy Greek Desserts To Try That Taste Amazing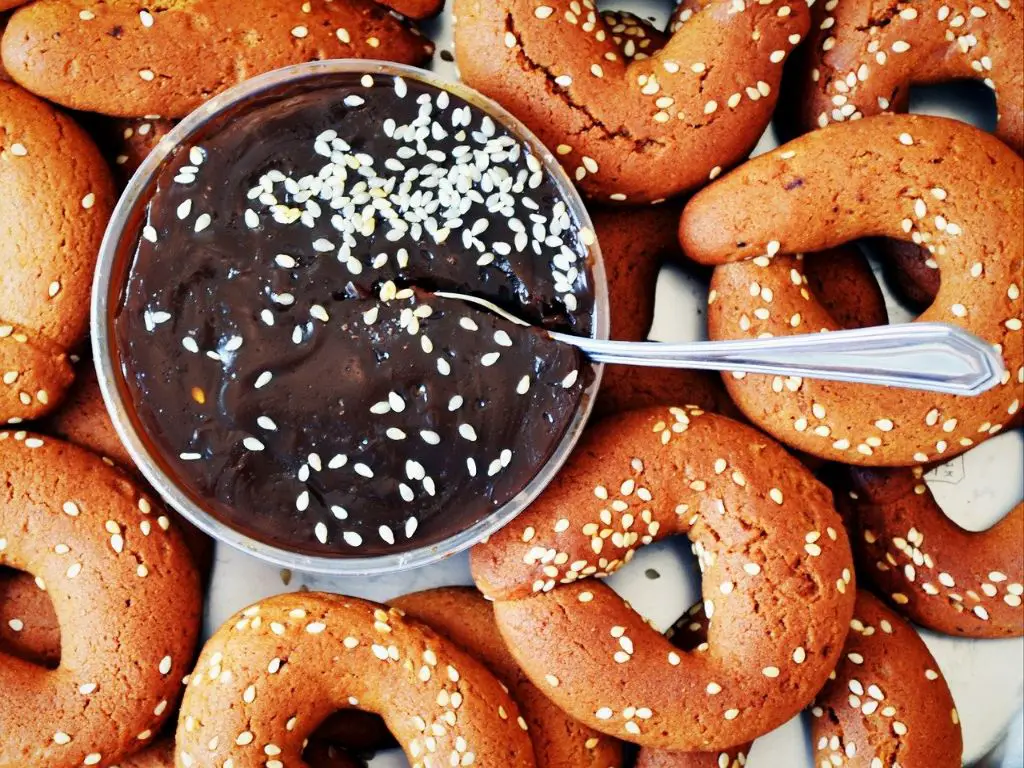 Do you love the idea of Greek desserts but are looking for a healthy alternative to your favourite treats? You might be surprised to find that most Greek desserts are lacking in heavy cream and butter, two ingredients that instantly catapult the caloric intake. Instead, there is a strong emphasis on healthy oils, especially olive oil, and the use of natural sweeteners like molasses, seasonal sweet fruits and honey.
There are plenty of options when it comes to healthy Greek desserts and most can also be adjusted if you are following a vegan diet without missing out on the flavour!
Halva
Halva is a very popular dessert in Greece as well as the Balkans, the Middle East and parts of Asia, with regional variations and different ingredients used in each country or region.
There are two popular versions found in Greece, "simigdalenios" and "Makedonikos". The first is soft and syrupy and is strong on cinnamon. Made out of semolina flour and syrup, you are free to add any spices and nuts you desire to give it a boost or sprinkle them on top after it is all done.
This dessert is perfect for periods of fasting as well as it contains no dairy products and can also be a vegan option.
The latter, "Makedonikos" is crumbly and dry and the key ingredient is tahini. For the uninitiated, tahini is a sesame seed paste with a high nutritional value and full of healthy fats and antioxidants. The tahini and nuts cake is usually made into a log, then cut into pieces and consumed on its own or you can even sprinkle it on your toast, cereal and yoghurt.
Pasteli
Another healthy Greek dessert option that has been around since antiquity is the pasteli. These are similar to energy bars and can either be made at home or purchased from any supermarket, kiosk and health food store around Greece.
The pasteli is characterized by the generous coating of sesame seeds on top, but they can also be found or made without. Crunchy, sweet and full of nuts, they pack proteins, healthy oils, antioxidants as well as your daily dose of iron and calcium. Look out for the pistachio, walnut or almond pasteli as well.
Of course a key ingredient of pasteli is honey, a product that has been a basic cooking ingredient since Ancient Greece, and used even for cult offers, medicine and make up products.
If you are not a fan of honey, agave nectar, maple syrup or date syrup can be used to keep everything together and add a bit of sweetness.
☞ Related: 7 Top Greek Desserts That You Will Fall in Love With
Yoghurt with Fruit and Honey
In this Greek dessert, simplicity meets elegance to create a perfectly balanced and refreshing dessert. Greek Yoghurt with fruit, honey and a selection of nuts is often served at the end of meals in Greek tavernas but can easily be eaten for breakfast and lunch as well. Yes, this is one dessert option that you can eat for breakfast as well!
The options for combinations are endless but it is important to start with good quality Greek yoghurt. In general, Greek yoghurt contains more than double the amount of protein and has thicker and a bit more sour taste due to the straining process. It is the perfect base for berries, nuts, honey, and any other toppings you enjoy.
☞ Related: The One Dessert Stop You Will Need To Make When Visiting Athens 
Fanouropita
This is one Greek cake that not many people are familiar with but can make an excellent healthy treat. Fanouropita takes its name from the patron saint of Rhodes Island, Saint Fanourios, and the cake is prepared and consumed during his feast day that is celebrated on the 27th of August.
This is a dessert that is heavily linked to Greek Orthodoxy all the way down to the number of ingredients that it needs to include. You will need olive oil, orange juice, flour, baking powder, cinnamon, raisins and a very light dusting of powdered sugar.
☞ Related: Sweet Escape: The 6 Best Places to Get Dessert in Athens
Moustokouloura
These molasses cookies are a unique take on simple and easy to find ingredients and while they can be found year-round they are mostly eaten after wine harvest season in early September and October when there is a steady flow of "petimezi".
Moustokouloura are soft, chewy and pack in a lot of aroma and flavours mostly from cinnamon, cloves, brandy and orange zest. They also have no additive sugars and are the perfect treat to accompany your midday coffee or cup of tea.
Yoghurt Pie or Giaourtopita
Greek yoghurt once again takes centre stage in this healthy Greek dessert that is both a cake and a pie depending on how you choose to make it. It is one of the easiest desserts to whip up and often served as a light and refreshing after dinner treat in tavernas and restaurants.
For a lighter version skip the syrup bath at the end and serve with an extra dollop of Greek yoghurt and a drizzle of a traditional spoon sweet or honey.
☞ Related: The Ultimate List of Greek Desserts You Need To Know About