10 Traditional Foods You Have To Try In Greece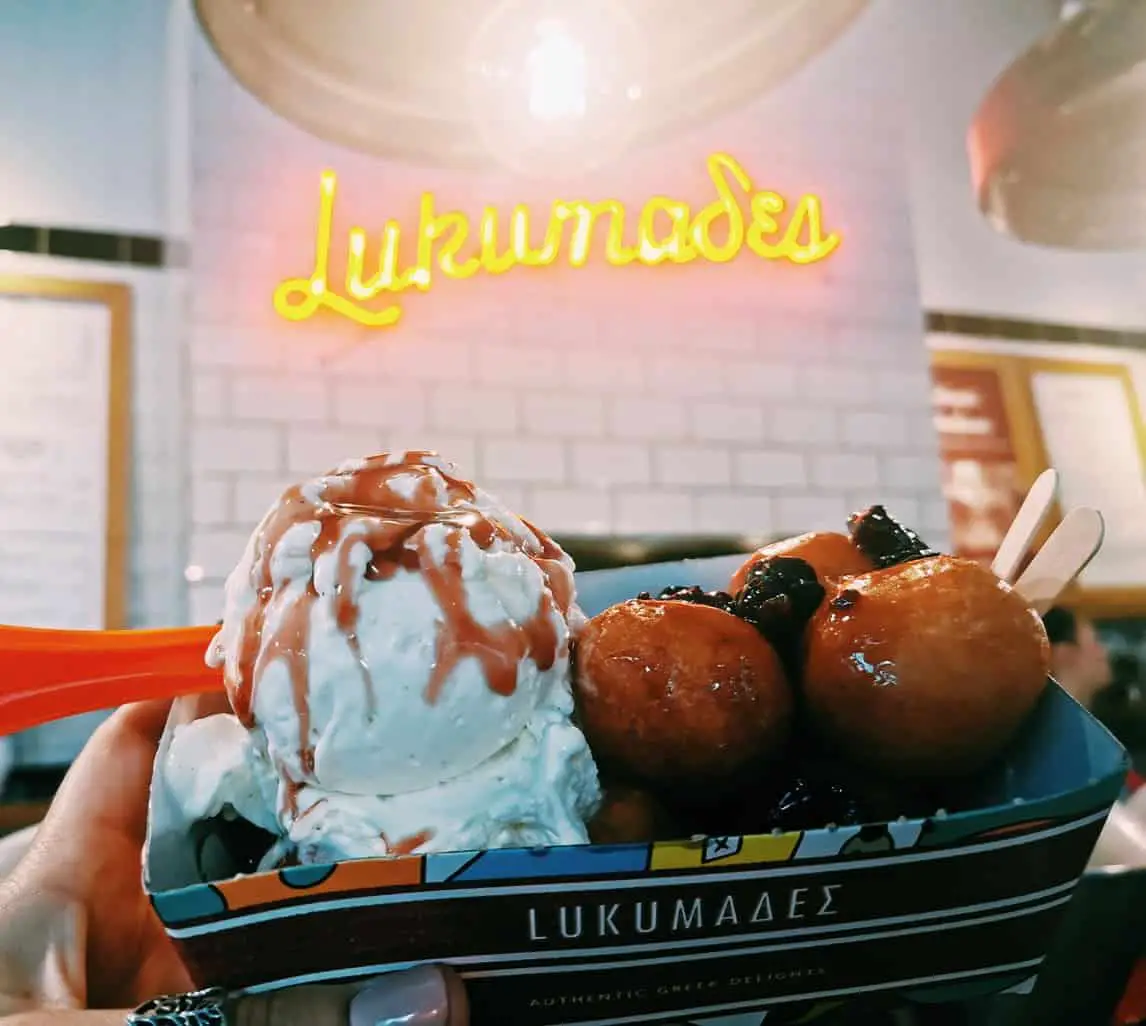 These are just some of the delicious traditional Greek foods you have to try!
Before I even touched down in Greece I knew the food would be amazing and after almost 3 months here I am far from disappointed. The food, the textures and the exquisite flavours have been out of this world. Part of what makes travelling so special is the amazing things we experience that are so different from those we have at home. To ensure you don't miss out when you're in Greece here is a list of some of the most delicious traditional food I've tried. From Athens to Thessaloniki and everywhere in between this list compiles what I think really embodies Greek tradition. I've included equal amounts of both sweet and savoury and mentioned some of the best places you can get the dish, although you'll be able to find these dishes everywhere. Happy eating!
Traditional Food You Must Try in Greece 
Souvlaki
Everyone that comes away from Greece will tell you how good the souvlaki or gyros was. They're affordable, delicious and you can find them everywhere. First, let's just distinguish between the two. Souvlaki is meat that is grilled on a skewer, while gyros is slices of shaved meat that's been cooked on a rotisserie. My favourite way to have souvlaki or gyros is in a pita. Served this way you'll get the meat of your choice (falafel or haloumi for the vegetarians) wrapped in a pita with fries, tomatoes and onions, all topped off with a generous dollop of tzatziki. At only €2.50 there's no surprises that it frequents many tourists' diets. A great authentic restaurant that you can try this traditional food is at Thanasis in Athens, and they do the pita version too!
☝️ Might eat here a bit too frequently!
Dolmadakia
Dolmadakia, rolled leaves or stuffed leaves as it is called in English, is rice wrapped in grape leaves. Flavoured with different herbs and spices it makes for one tasty parcel. I had these at 'Ouzeri Tsinari' in Thessaloniki. At this tavern they serve it with a slice of lemon and some tzatziki. It smells so good you might have some furry friends coming to see what's on your plate!
☞ Related: 10 Best Restaurants and Taverns in Thessaloniki Favored By Locals
Greek Salad
I arrived in Greece in the middle of summer and a Greek salad was the ideal refreshing meal on a hot day. While I enjoyed tasting and seeing the variations that each restaurant and place provided, I also loved making my own. During summer all the ingredients are readily available at a produce store or the supermarket so I made most of my salads myself, and now you can too!  This salad consists of tomatoes, cucumber, peppers, olives, olive oil and of course a good hunk of feta. For it to be truly traditional however there are a few things you need to know. To find out what they are click the link below.
☞ Related: How To Make The Best Greek Salad Of Your Life
Stuffed Vegetables
This is one of my favourite traditional foods I've tried in Greece. With this meal you get both a stuffed pepper and a stuffed tomato with a delicious herbed rice filling. The meal also comes with some crispy coated potatoes on the side. It's swimming in olive oil, has rich flavours and is baked to perfection. I've had this meal more times than I can count, it's always a winner, but a lovely spot that does an excellent version of this dish is the Oraia Hellas Café in Athens. Close to Monastiraki square you can take a table outside, tuck yourself away on the balcony to people watch or sit with a view of the Acropolis. Wherever you sit know you'll be well looked after and the stuffed vegetables will not disappoint!  
☞ Related: Why You Need To Visit Oraia Hellas Cafe
Spanakopita
I've tried spanakopita, or spinach pie elsewhere before, but let me tell you, it's a thousand times better in Greece. When it comes to food, filo pastry is an art form that the Greeks have completely perfected. Spanakopita can be made with or without cheese, so whatever you prefer. Personally, I love the tang that the feta cheese adds to the dish. Made from a few simple ingredients; spinach, onions, feta and herbs that are all wrapped in crispy filo you'll be pleasantly surprised by how delicious it tastes. You can pick some up at any bakery, just be sure to get in quick, they sell out fast!
Moussaka
What better way to reward yourself after a hike than with some delicious traditional food? This is what I did on the Greek island of Naxos after climbing mount Zeus. Returning ravenous I ordered myself some moussaka at Scholarheio in Filoti. Traditionally moussaka is made of layers of eggplants, mince with a tasty tomato sauce and a thick layer of cheese sauce to top it all off. While some versions may include layers of zucchini, potatoes or other vegetables, moussaka in any form is the perfect belly filler. It's hearty, it's fulfilling and you'll definitely be going back for more.
☞Related: All You Need To Know To Climb Mount Zeus In Naxos
Bougatsa
Bougatsa was a sweet treat I had many times during my stay in Thessaloniki.
This is a traditional food found all over Greece but it's particularly well known in the north, so obviously I had to embrace the culture while I was there! And what a treat it was. Bougastsa is like the Greek version of a custard square … except better! Served warm, wrapped in crisp filo pastry and with a light dusting of cinnamon and sugar, bougatsa is sure to delight your sweet tooth. But it's not only a sweet dessert it can also be stuffed with cheese, and in a more modern spin it may be filled with spinach or mince, so the choice is yours. While I tried bougatsa in other places it was definitely the best in Thessaloniki. If you're visiting you must go to Bougatsa Giannis. What flavour will you try?
☞Related: The Food You Absolutely Need To Try In Thessaloniki
Loukoumades
Loukoumades are little balls of dough fried until they reach crispy perfection, or Greek donuts if you will.
They're crunchy on the outside and deliciously soft on the inside and one of my favourite places to get this sweet treat is at Lukumades in Athens. As the name suggests this is their specialty, so they have a whole range of toppings, and not to mention fillings, for these deep-fried morsels. I went for 'Grandma's choice', which is loukoumades served with kaimaki ice cream and a cherry syrup, but if you're after something a little more traditional you can go for a topping of cinnamon and honey. If you don't feel like sweet food you can easily opt for savoury, as Lukumades has cheese stuffed options as well! Vegan? No problem either, just get the 'Vegano' with chocolate sorbet.
Ekmek Kataifi
This dessert incorporates two delicious elements.
One being kataifi which is a traditional Greek pastry made of shredded filo with hints of clove and cinnamon. Atop this katifi pastry layer lies a custard and whipped cream mixture that's light and fluffy and sure to delight your taste buds. I had this dessert at Nancy's Sweet Home in Athens. As the name suggests there's only sweet food on the menu, so make sure you stop by and try this Greek dessert, their version is to die for. While you can pick it up at most bakeries, sometimes it's nice to indulge, go somewhere fancy and add a side of ice cream, would you agree? 
Baklava
If you're a lover of pastry, this dessert is the one for you. With layers upon layers of crunchy filo pastry, chopped pistachios and drizzled with honey syrup, this is guaranteed to satisfy your sweet tooth. A characteristic dessert of the Middle East it's also prominent in Greece and is another traditional food you can't miss out on.
Portokalopita
Portokalopita, or orange pie as it translates to, is a cake made with filo dough, Greek yoghurt, eggs, olive oil and orange zest. Once it's cooked it's then covered in an orange juice syrup. Because of  those ingredients and the syrup it's an extremely moist cake, making it one of the best citrus desserts I've ever tried. What makes it taste even better is if you serve it with a generous spoonful of Greek yoghurt to contrast its decadent sweetness. As far as traditional food goes, this dessert is irresistible.
Do you prefer sweet or savoury? What traditional food from Greece do you think you'll try first?