5 Islands Close To Athens For A Quick Getaway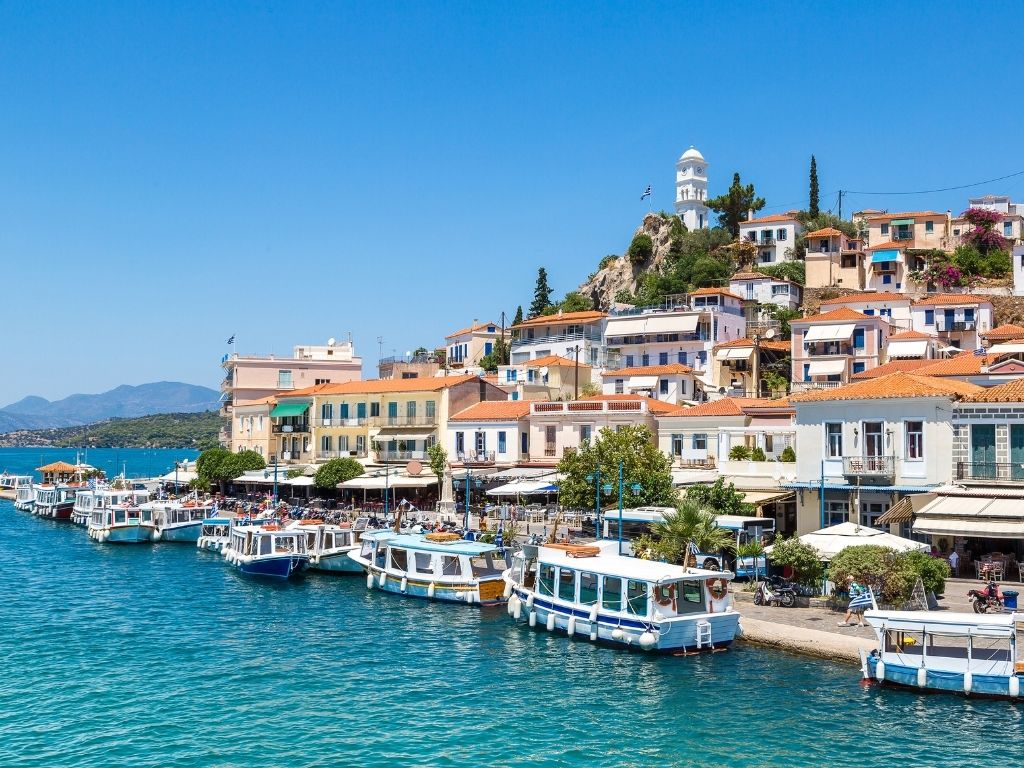 The Saronic Gulf has a number of islands close to Athens
If you are visiting Greece, it is likely you will be spending at least a few days in the capital, Athens. From incredible ancient sites, modern museums, lush green spaces and cosy cafes there really is something for everyone.
The only thing missing is the Greek island experience, but not to worry as there are a few wonderful islands close to Athens. While getting to the famous islands of Mykonos and Santorini can take you 5-7 hours from Athens, travelling to the Saronic Gulf will take only an hour or two.
The different island groups of Greece offer a complex variety of culture and history, from starkly different architecture to a multitude of exquisite textures and flavours, so if you can, definitely visit more than one! But sometimes when travelling you are short on time (If you do have set your mind on seeing a few islands from multiple complexes but have limited time the best bet would be to find the Greek islands with airports).
Maximising your trip by planning efficiently means you can see as much of this beautiful country as possible. The Saronic Gulf is the island complex closest to Athens and the 7 islands that it comprises are all within a short ferries trip.
☞ Related: A List Of The Best Things To Do On Holiday In Athens
The Saronic Gulf
The islands close to Athens that are part of the Saronic Gulf are: Aegina, Salamina, Poros, Hydra, Spetses, Agistri, and Dokos.
So, what can you expect when visiting these islands? This Greek island group is perfect for people doing day trips, island hopping, yachters and sailing cruise escapes. While they are some of the smaller Greek islands they certainly make up for size in character and these cosmopolitan escapes are frequented by Athenians.
The most well known, Hydra and Spetses, are both car-free and offer a quaint and exciting warren of alleys for pedestrians to explore. Historical wealth boasts 18th and 19th-century mansions with and beautiful bays and coves. Stunning waters but often inaccessible beaches which are best reached by water taxi or a long and relaxing cruise, so it pays to look into chartering a yacht.
☞ Related: Your Master Guide to All Greek Islands and How to Pick One 
Hydra
This island close to Athens is undoubtedly the most popular destination in the Saronic Gulf. In the 1960s it became a hub spot for artistic foreigners, like the late singer/poet Leonard Cohen, who used this island as a creative retreat. With an air of eloquence, slow-paced island living and picturesque traditional setting, you can see there is a lot to love!
This little island also has a rich history and played an integral part in the Greek War of Independence, which you can piece together at the Historical Archive Museum of Hydra. This in addition to small fishing villages, stunning beaches and beautiful hiking trails makes Hydra the ideal Greek island experience just outside of Athens.
☞ Related: The Most Underrated Greek Islands In The Country
Spetses
Similar to Hydra, the neighbouring island of Spetses attracts visitors that seek to immerse themselves in the aristocratic and picturesque setting. But this island has a wilder feel to it. So, whether on foot or on horseback exploring the trails that criss-cross the island is the perfect way to take in this rugged environment. With no cars, like Hydra, it is one of the islands close to Athens that has the ability to transport you back in time.
☞ Related: The Most Underrated Greek Islands In The Country
Aegina
Of all the islands close to Athens, this is the closest. Upon leaving the port of Piraeus you'll be in Aegina within the hour! As with every place in Greece, there is a traditional food or flavour that becomes a famed local speciality. Aegina is known for its pistachios! Climb the mountains and enjoy the rural atmosphere and country settlements, or simply find a spot by the sea. If you love seafood the islands are always the best place to indulge, so don't forget to settle in one evening at a local taverna.
☞ Related: The Traditional Greek Recipes You Need To Try
Agistri
If you are looking for something different and more removed from the crowds, this one is for you. Agistri island is close to Athens and is an even shorter boat ride from Aegina. Despite its size, you will find everything you need in both the capital Megalochori and the tourist favourite Skala. From cafes and bars, these two villages also have an assortment of accommodation. On Agistri you can drive through the lush pine forests that cover the island to find some secluded beaches, Aponissos and Dragonera being the most popular.
☞ Related: What is the Ideal Greek Island For You According To Your Type Of Vacation
Poros
Poros is another one of the islands close to Athens. But this island is also a gateway to the Peloponnese. On the south coast of the island, the Peloponnese is merely 10 minutes away on the Poros-Galatas ferry. This magical part of Greece offers an eclectic mix of myth and history and boasts a number of important ancient cities. If you want to explore more of the mainland you are in a perfect position. If not, the stunning vistas of the Peloponnese will have to suffice.
Poros town lies on the remnants of a volcano so you here you can enjoy the views from above. Make sure you stroll the promenade and admire the neoclassical villas that overlook the port. Probably the islands most popular beach is Love Bay, but if you wanted to opt for something less busy you could visit Monastery Beach, aptly named the Monastery of Zoodochos Pigi that sits just above its shores.
☞ Related: How To Road Trip The West Coast of the Peloponnese