Greek Alcohol – The 5 Drinks You Need To Try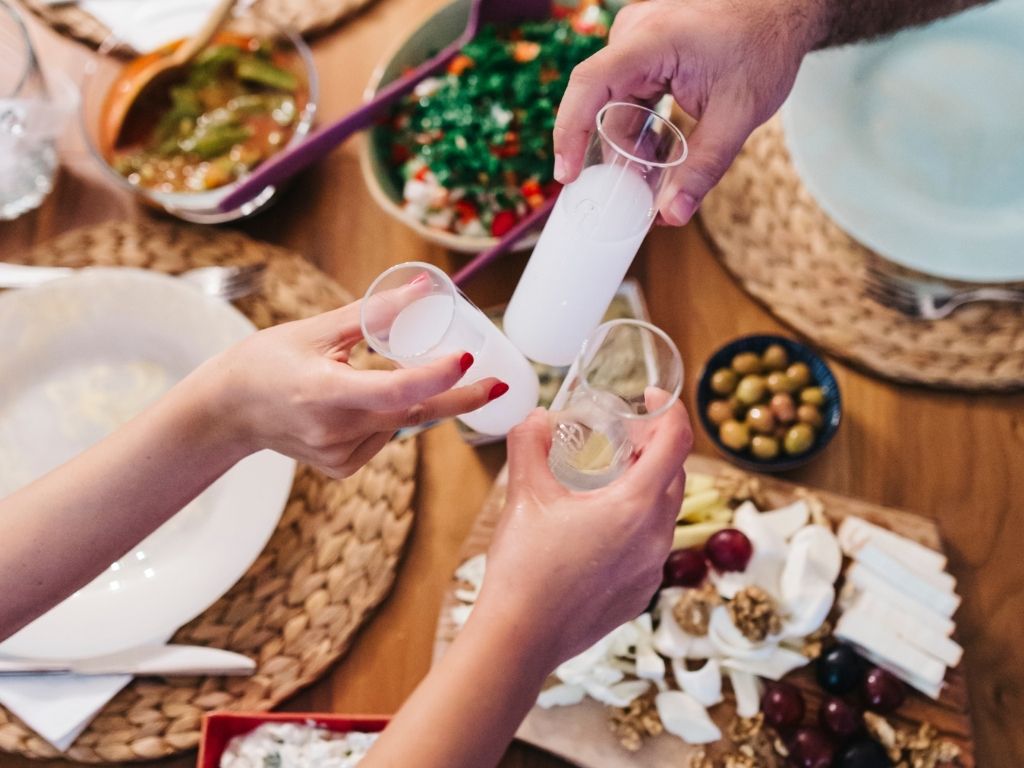 Your first thought of Greece might be the traditional food, not the drinks. But in Greece, the beverages that accompany a meal are also an important part of Greek culture. A late dinner at a taverna goes hand in hand with some local Greek alcohol. Always sipped in small quantities at leisure with good company. Wherever you are in Greece there is a speciality that awaits! So don't forget to ask the locals!
Greek alcohol you have to try
Mastiha
Ouzo
Raki
Greek beer
Greek wine
If you want to say "Cheers" in Greek, you say "Stin igia mas" or just "Gia mas".
Mastiha Cocktail
Chios, situated in the northern Aegean, is one of the most unique islands when it comes to Greek alcohol. As you travel from place to place in Greece you will notice that the flavours vary, but none are quite as special as those in Chios. Southern Chios is the only place in the world where the mastic tree is able to produce mastic resin.
Mastiha, as it is called by the locals has a range of medicinal properties but as well as being used to flavour ice cream and gum it's also used to flavour liqueur. So, if you see a mastiha cocktail on the drinks menu, be sure to indulge. This is a delicious and exotic flavour that is sure to set your tastebuds alight!
☞ Related: 5 Reasons: Why You Need To Visit Chios
Ouzo
Ouzo is considered to be the national drink of Greece, made with grapes left over from the by-products of winemaking.  Because of its strength sometimes this Greek alcohol is diluted with water or served over ice which gives it a milky appearance. If you try some ouzo make sure you do it the right way, just like the locals. Traditionally ouzo is accompanied with mezedes which are small plates of food or appetizers. Ouzo is made with anise and the liquorice flavours are the perfect combination to some seafood mezedes.
Raki
In Greece, Raki is considered a Cretan rite of passage. Traditional to the island of Crete this spirit has anise seed flavours and a likeness to vodka. With a minimum alcohol concentration of 37 per cent, it's not surprising that a little can go a long way. Nowadays, you will probably be served a small chilled bottle of raki (also known as tsikoudia) as an aperitif following your meal. Despite its potency, the purpose is not to get drunk but to socialize. Raki can also be served warm and sweetened with honey, lemon or other spices.
☞ Related: What To Do In Crete – The Best Local Tips
Greek Beer
A classic go-to option for those travelling on a budget is always an ice-cold glass of Mythos or Alpha. These Greek beers will only set you back a couple of euro and always provide the satisfaction of refreshment. But for the more adventurous palettes why not try the Crazy Donkey beer brewed in Santorini, or even the 'beer of the gods' brewed by Zeos in Argos in the Peloponnese, home to the most famous Greek gods and heroes.
☞ Related: 5 Olympian 'Gods' And Their Greek Island
Greek Wine
When it comes to Greek alcohol, there's one thing the Greeks know best and that is Greek wine. Winemaking is an ancient tradition, perfected over the centuries it has not only been an integral part of Greek history it is also an important part of Greek culture. From mainland Naousa and Thessaloniki to the islands like Crete and Santorini, Greece has no shortage of fantastic wineries. Here you can taste famous international varieties such as Merlot, Cabernet Sauvignon, and Sauvignon Blanc along with Greek varieties like Assyrtiko, Savvatiano and Xinomavro.
☞ Related: The Top 10 Things To Do While Visiting Santorini
Krasomelo
What better winter warmer than a glass of mulled wine. Krasomelo is the Greek version of mulled wine filled with spices like cloves and cinnamon and sweetened with honey. This Greek alcohol is usually served in December as a Christmas tradition. So, if you are visiting Greece in the winter months, be sure to give it a try.
☞ Related: What Does Santorini Look Like In The Winter?