Afytos in Halkidiki Greece – A Summer Favourite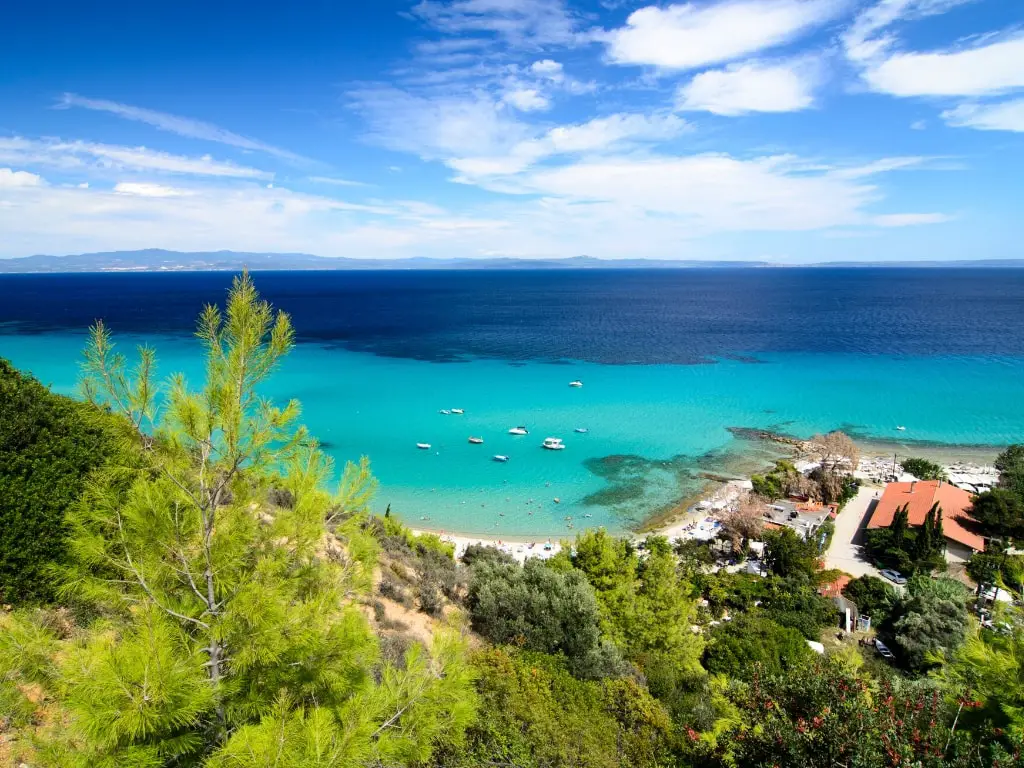 Afytos is one of the oldest and most charming settlements one can visit in Kassandra, the first leg of the Halkidiki peninsula. Kassandra was once known as a place of fire and the mythical location of wars between the Olympian and the giants.
Nowadays the area is best known for its night-life and cosmopolitan beach bars with luxurious amenities and crystal clear waters. Afytos is located on the eastern coast at the very top and looks out towards the Toroneos Gulf.
You might also see Afytos spelled with "th" or the Greek "Θ", Αthitos. From what we know, the name has stayed relatively unchanged since ancient times.
Afytos stands out amongst the many villages in the area for its beauty as well as its historical and natural significance. The village has managed to preserve its original charm, with cobblestone streets, and stone built houses that can make visitors feel like they have stepped back in time.
To preserve the architectural feel of the area, restrictions are in place to ensure that only local limestone is used and that the design and feel of the village remains the same.
☞ Related: The Most Useful Basic Greek Phrases You Need To Know
You most probably will have to park your car outside the village and then wander inside the cobblestone streets on foot. Undoubtedly, you will come across the jewel of the village, the church of Agios Dimitrios from 1859 and then after a short walk you will reach the main promenade, with a stunning view of the Gulf below. This one is a bit different from other seaside villages however, as it gives you a panoramic view of the water and cliffs below. You will need to get back into your car to reach the seaside tavernas below.
There are more than a dozen restaurants, bars and cafés along this road that can suit your preferences.
In different ways, Afytos feels like a place where art and expression are always at the forefront. Earlier in 2019, Mr Pavlis, the former chairman of the community of Afytos, started a project which saw empty cheese containers being converted into artsy flower pots.
The deep, long cheese containers, which are easily found and even easier consumed in Greece, were painted over, decorated, then planted with flowers and spread around the village. The result is an open-air art gallery, with more than 300 cheese/flower pots around the village.
There are a lot of hotels, resorts and rooms to let in the area. This is a popular area not just for international visitors but also Greeks and especially those from Thessaloniki who take advantage of the 1-hour distance from the city to come and unwind here.
In the summer, the area is bustling with day-trippers and tourists, and you will find the tavernas, and bars stay open until late and there are a lot of cultural events taking place during the weekend.
The Beaches in Afytos 
There are three beaches in the village, Afytos Beach, Varkes Beach and Liosi Beach.
Liosi beach is named after the beach bar in the area and has quite a long and narrow strip of land. Some parts of the beach are sandy and there are sunbeds and umbrellas for hire as well as free space for people that prefer to bring their own equipment.
Varkes Beach, which translates to 'boats' and is as expected a spot where many fishing boats are tied, is another beautiful spot for swimming in Afytos. This is one is almost all sand and deepends slowly and gradually, perfect for families with children. There are also a lot of tavernas right on the water which make a great lunch spot after swimming all day.
The third beach, Afytos, is a beautiful bay with a long coastline that is a mixture of sand and rocks.
Places to Eat in Afytos 
There are plenty of options for drinking and dining in Afytos, whether you are looking for a traditional taverna or a romantic dinner for two with the view of the bay below.
Fortuna All-Day Bar
Fortuna is one of the most well known all-day bars in Afytos with an incredible view of the beach below and a relaxing setting that is perfect for coffee, lunch or dinner. Of course the view over the bay really makes this an amazing spot to watch the sunset with cocktails or a local wine.
Sparos Meze Bar
This seaside restaurant is great for lunch dinner or mezedes (small plates to accompany your ouzo or tsipouro). There is a variety of dishes including excellent grilled octopus, fried shrimp, fried calamari, tomato fritters and courgette balls, and of course dips, salads, and plenty of fresh fish.
The Ice Cream Shop
Summer nights and ice cream are meant to go together. The Ice Cream Shop is a quaint little store, that you can easily spot by the bee mascot that stands outside. What makes this place different is that it serves ice cream made from early harvest, extra virgin olive oil that is made in Halkidiki.
Kavouras Sea View Restaurant Kallithea
This restaurant is located outside Afytos in the next village, called Kallithea. However, the distance between the two is less than a 5-minute drive and about a half an hour walk depending on how centrally you are located.
The restaurant is semi-hidden behind the main square and church of Saint Nicholas. The balcony seating gives you a view of the whole beach below, as well as the ruins of the Temple of Ammon Zeus. Kavouras is a seafood restaurant so this is the best place to try musells, shrimp saganaki, small and large Greek fish or anything else that strikes your fancy. The service is friendly and attentive and the prices are fair. For those that are not keen on seafood there are a handful of meat options and quite a few appetizers and salads.