Monastery Of Arkadi: The Cretan Time Capsule Of Faith & Religion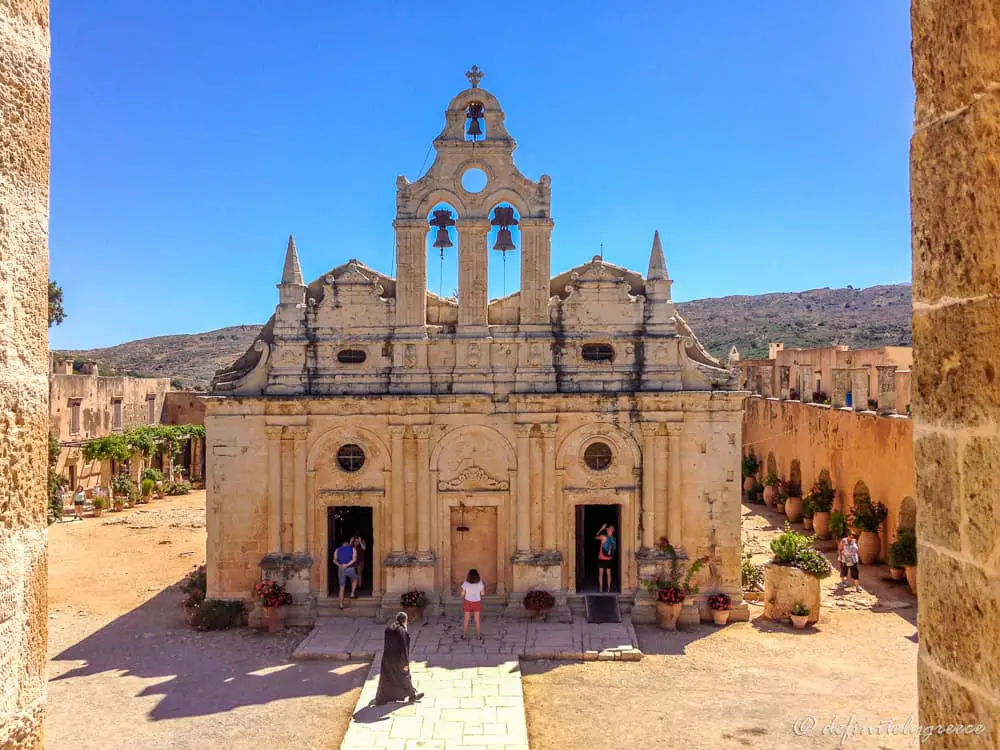 The Monastery of Arkadi will transport its lucky visitor hundreds of years back in time and will tell him stories of religion, architecture and war.
Located just 23 km outside of Rethimno and built on the Northwest side of Psiloriti mountain, the monastery awaits your exploration. The foundation age of this unique UNESCO Monument of Freedom is unknown but is dated between the 10th – 11th century.
Arriving at the Monastery, you can immediately notice the Venetian architecture influence.
The Venetian architecture is so pervasive that you can be forgiven for forgetting that you are still in Greece. Because of its strategic position, a fortress surrounds the temple and all of the adjoining structures: the monk cells, wine cellar, gunpowder storage room, dining room and hospital.
Outside the wall, lay the bones of the guardhouse which housed the defenders of the Monastery who fought the battles between the Greeks and Turks.
Entering the fortress, you will stroll through the grounds observing flowers, bowers and trees.
The great bell tower immediately gets your attention and draws you inside the temple to experience and enjoy the main Monastery building. After that, an outdoor staircase awaits you so that you can observe the surrounding area from every possible height and angle.
Visiting all these sites, you will begin to understand how monks used to live, eat, drink and even fight!!
Yes, fight!!!
During the Revolution of 1821, the Greeks sought to release themselves from the Ottoman occupation. This Monastery became a crucial battleground.
You can even see a cannonball embedded in a cypress tree just next to the main temple as a result of these battles. Over a 1,000 men, women and children were killed during the fightback of 1866 AD, and the bones of the guardhouse are there to remind us of that.
Experiencing the Monastery of Arkadi, while you are in Crete will leave you with memories that embody the architecture, religious character and battle experiences of a time and place that, though in the past, will forever be a part of this landmark and its structures.