Why How and Why Not to Visit Gramvousa & Balos in Crete Island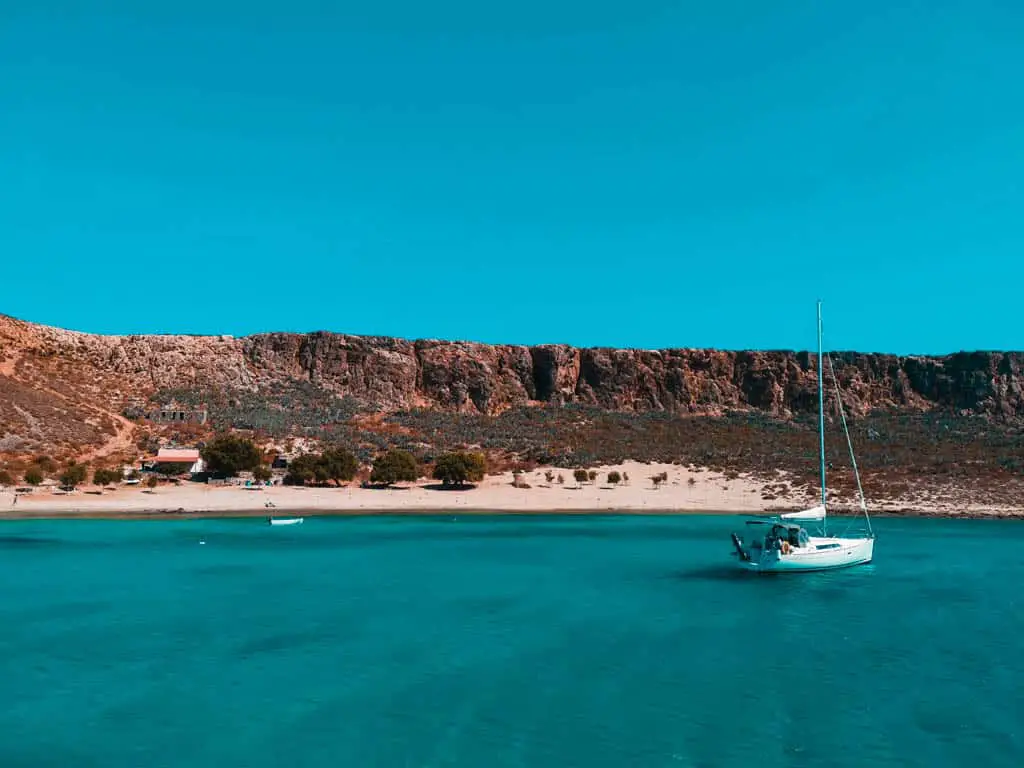 Have you ever heard of Gramvousa or Balos lagoon in Crete?
Balos is one of the most well known Greek beaches and it is one of two Greek beaches that continuously features in almost every single "best beaches around the world" article. Don't believe us, check out this roundup post to find out what the second beach is. 
Gramvousa island is less known, having a difficult name doesn't help, plus you can only reach this spot through a boat cruise. So it is possible that many visitors have missed out on experiencing the beauty that is Gramvousa Island and we want to change that.
I called the island of Crete home for a period of 8 months back in 2010 and have been visiting every chance I get both for work but also as a favourite holiday place. Earlier this summer, I got the chance to once again explore Crete as a tourist with my good friend and Definitely Greece writer Erilda Goga for some downtime and relaxation.
We mainly stayed around the city of Chania, which is a favourite by far and ticked off most of the items on this list (20+ Things You Absolutely Need To Do In Chania) since it was Erilda's first visit.
One of the top moments during our 5-day trip was the visit to Gramvousa and Balos. Here are some tips and information to help you plan your own visit to these beautiful locations.
Gramvousa and Balos Guide – Table of Contents 
What are Gramvousa and Balos? 
Balos Lagoon is a place of unparalleled beauty with turquoise and shallow warm waters that receives thousands of visitors each summer. The primary thing to keep in mind is that this is a protected area under the Natura 2000 program. Why? Because it is necessary to safeguard the species of flora and fauna some of which are endemic to the island of Crete. It is also an area that serves as a sanctuary for the endangered monk seal and loggerhead sea turtle.
In essence, however, most visitors approach Gramvousa and Balos the same, that is as beaches, which might be a mistake. Balos has shallow waters that can often appear muddy. It can also get windy and the area offers little protection from the sun unless you come prepared with umbrellas. Depending on the season, the microorganisms that are present in the rich seabed can spread an unpleasant smell that while not ideal for sunbathers is an important part of this natural habitat.
Gramvousa is a small island off the coast of north western Crete that is actually two separate islands. The one tourists most often get to visit is Imeri Gramvousa which translates to "tame". At the top of the hill you will find a Venetian fort, so if you are up for a climb bring some good shoes and your camera. The other Gramvousa is Agria or "wild" which you can only reach on your own boat. Gramvousa is also host to numerous plant life but the beach offers a bit of shade so it is more of a swimming destination than Balos. Gramvousa is also known as the island of pirates and there is a flag to prove it as soon as you arrive!
How To Visit Gramvousa and Balos? 
The distance from Chania to Balos is about 50km and takes more than an hour. The road is getting better but it is definitely an interesting ride. Another alternative is to take a boat from Kissamos that stops at both locations.
☞ Related: 7 Greek Beaches You Definitely Need On Your Bucket List 
Why I Don't Like Driving To Balos? 
Chances are that you are probably making this drive in a rental car. That by itself adds a level of unnecessary stress for damages. The road is long, slow and full of potholes. For suitable off road vehicles that is not an issue, but since most have small rental cars, they drive extra slowly to avoid damages. But even going very slow is not enough. The small gravel stones will fly in all directions, hit the windshield or scratch the car. That is not the kind of stress I need in my life when trying to enjoy my holiday.
Once you get to the parking spot you will walk for 20 minutes under the sun to reach Balos. The scenery is breathtaking and sprawls around the bay into the endless Aegean Blue. Photographers will love this vantage point for panoramic photos of the whole lagoon and there is no better spot to grab a photo of yourself looking out into the distance. While I've never made the trip during sunrise or sunset I can imagine it adds another magical dimension to the landscape, especially since there are hardly any people there at that time.
Yet, for beachgoers I still believe this is not the best way to visit Balos. While the 20 min walk down is full of excitement and anticipation, the walk-up, which takes double the time, might be a struggle. Considering there are almost no organized facilities on the premises and no shade protection you should also be prepared to carry umbrellas, towels, plenty of water and food and anything else you need down with you. It would be a shame to have to leave after only a couple of hours and even more of a shame to have to go up then down again if you forget the sunscreen!
While I am not a fan of driving to Balos, there are a few reasons why you might decide that is the path for you. If you:
use a suitable 4×4 vehicle that you don't have to worry about returning to the rental company damaged

if you are happy walking, hiking or exploring the area (especially under strong summer sun conditions)

or if you are a photographer that wants to take their time to capture the beauty of the scenery.
However, families with small children or those unable to walk long distances should probably consider option number 2, taking the boat!
☞ Related: Another Article That Is Pro Driving For Those Interested
Why I Like Taking The Boat To Balos? 
The number one reason why it is best to visit Balos on a boat is because it also stops at Gramvousa. Remember? The small tame island from before that has a Venetian fort at the top of the hill? Balos is a unique spot of paramount beauty and a great trip to make when you are in Crete, but it is not the best swimming spot. That's when Gramvousa enters the picture to give you the best of both worlds. 
Arranging a boat trip to Gramvousa and Balos is very straightforward. We were there in mid-August, peak summer season for Crete and the whole of Greece, and managed to get tickets fairly easy the day before. I do no recommend our approach, however!
From Chania
For this holiday we were staying in Chania and reached out to different companies to compare prices and schedules. We found the prices identical for all packages with some differences depending on pick ups and drop offs.
One popular option is to arrange a hotel pick up, after which a bus will transfer you to Kissamos port where you will board the ferry.
Most trips are based on the below schedule:
Drive to Kissamos

Arrival before 10 a.m
Arrival in Gramvousa island approx 11:30 a.m
Departure from Gramvousa island approx 13:30 p.m
Balos Lagoon 13:50 p.m
Departure from Balos around 16:30 p.m
Arrival Kissamos port 17:45 p.m
☞ Related: Your Master Guide To All Greek Islands & How To Pick One
If you are driving to Kissamos from
*if you are staying in Heraklion it would be advisable to spend a few nights in Chania instead to save on driving time and costs.
The bus is a great option if you are staying in Chania. It takes a little bit more than an hour, compared to the 40 minutes in the car and costs approximately 7 € each way. We took the 8:30 bus from the main KTEL station in the centre of Chania, so we had plenty of time to get there.
What Is The Total Cost Of Visiting Balos & Gramvousa 
If you are driving:
From Chania to Balos and back = approx 15 €
From Rethymno to Balos and back = approx 25 €
Administrative Fee = 1 €
Ferry tickets:
Bus ticket to Kissamos port return = 15 €
Adult = 27 €
Child (3 – 12) = 13.5 €
Administrative fee = 1 €
Misc
Umbrella hire from boat = 5€ + 5€ deposit in case of no return
Water from the boat = 1 € for 1 bottle
Water from supermarket = 0.50 cent for 1 bottle
Coffees from port cafe = 2 € per person
Snacks and lunch from boat = 7-10 € per person
Small spot where we found space to put our tent down, secured with plenty of rocks so it wouldn't fly around. The water doesn't look great but it was much cleaner on the other side!
Why not to go to Gramvousa and Balos and what to keep in mind? 
Our planet is full of places of amazing beauty and Balos is definitely one of them. Yet, mass tourism can massively impact the ability of a place to continue to be beautiful for future generations and sustain the organisms that call it home. If you are not a fan of crowds or sense that a place of such popularity will be hell to visit, please skip it. I do not mean to be unkind but I have too many times heard the lament of travelers complaining of a place being too full of people to be enjoyed. The purpose behind my words is not to discourage you or paint a bad picture of this beautiful location. It is to lower your expectations!
Travel brochures show photo-shopped images with no people, yet that is not the reality. Especially if you come during the peak summer months you are going to be sharing your space with a ton of other travelers. Even though the municipality has in no way solved many of the issues that face Balos each year from mass tourism, we owe it to the land to be as respectful as if it was a perfectly preserved paradise. That means taking all rubbish with you and of course not throwing any cigarette butts in the sand.
How to ethically visit Gramvousa and Balos in Crete? 
This is a hard question that is in no way able to be answered within this article. Locations that are tourist favorites are affected all around the world and there is no one solution fits all. If you are an immensely ethically minded traveler, then you might prefer skipping this location all together and instead visit some of the countless beautiful villages and beaches in Crete island that people don't visit in such numbers.
If you decide to make the trip, both car trips and boat cruises introduce harm into the ecosystem. However, you will find most companies have a strong commitment to conservation and are offsetting harm through other actions as well as fully complying with regulations for the protection of marine wildlife and ecosystems. On a personal level, be more aware of rubbish and cigarette butts and discourage anyone you see around you from throwing them on the ground.
On a much larger scale, if you feel strongly about the preservation of the natural habitat of the place, you can submit a complaint to the relevant authorities or create a social media campaign to reduce the number of daily visitors to Balos. This is a relatively easy solution to implement and while it undoubtedly would affect the livelihood of tour and ferry operators in the region, it will be a much better approach long term and even encourage more people to visit in due time.
Lastly, there are plenty of conservation projects in Crete whether you want to help the turtles or organize clean ups.
In Conclusion On How To Visit Gramvousa and Balos Island in Crete 
In conclusion, I would suggest most visitors arrange a ferry cruise in order to explore Gramvousa and Balos. Driving is best suited to those that don't have to worry about damaging a rental car, need extra time to spend around nature and can walk the steep hill back to the car after descending to Balos. Since visiting Gramvousa is only possible with a boat that might be another reason why some would prefer the first option. Keep in mind that you are visiting a most precious ecological habitat of huge importance to turtles and other marine life and as such take all rubbish with you. The cost per person ranges from 10 – 70 €  depending on whether you drive or take the ferry as well as lunch, coffees, water and other personal spending.
If you can visit during the shoulder season in May or September the crowds are likely to be lighter. Take lots of photos because this is a truly wonderful place and an experience that undoubtedly puts Crete on the map as a top holidaying destination!
 I hope this article gives you a better idea of how and when to visit Gramvousa and Balos. Do you need help creating an itinerary for your Greek holiday trip or need a friendly group of locals to plan the best trip for you? We have got you covered. Just click on the link below to get in touch with us. Happy and safe travels!