Greece In October -Your Ideal Destinations For Each Month Of Greece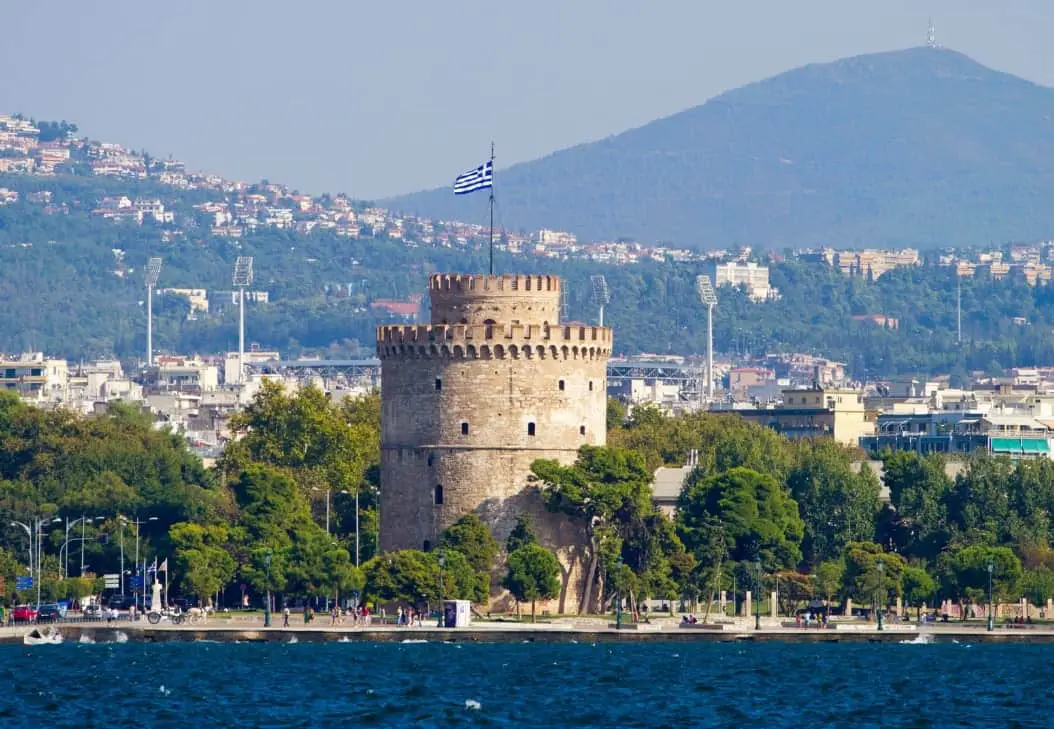 Are you considering travelling to Greece in October?
October is an interesting month for Greece.  Depending on where you want to go and the type of activities you have planned it could be a great choice or not so much! In general, it is still a warm and pleasant month with very few days of rain and less crowds in all touristy areas. However, it can also be a very unpredictable month so if you are set on a beach holiday then October is not the ideal month for your travel.
What do you need to pack for Greece in October?
When packing for a trip in October aim for half summer and half autumn clothes. In the past few years, the first weeks of October have been hot enough for swimming and we have planned trips and enjoyed beach days in Mykonos, Santorini, Crete and other summer destinations around the country. However, northern Greece and high altitude mainland destinations can also feel cloudy and windy, making a light jacket necessary.
☞ Related: What You Need To Pack For Greece in September 
What kind of traveller enjoys Greece in October?
If you are travelling as a family and would prefer quieter days and less sunbathing then October is a good option. This will particularly suit families with very young kids that don't have to be in school or that live outside of the norhthern hemisphere when school usually begins. The temperature is often considered "chilly" by Greeks and other southern Europeans with an average of about 20 degrees Celcius. You may also find that locals, having just endured 40 degree weather all through summer, will reach for their cardigans as soon as temperatures drops a bit. However, those that are used to colder climates may find that 20 degrees is still perfectly fine for a summer holiday.
The water temperature in Greece in October ranges between 20 and 22 degrees depending on whether you are in the north like Halkidiki, or down south in Crete. That may sound incredibly good to you, especially if you are from somewhere like New Zealand where midsummer water temperatures (which is Dec-Feb by the way) are 22 at best!

In comparison, the hottest summer months in Greece can heat the waters up to a tropical 28! 
If you are not a fan of crowds, you may also put October on the top of the list. You will be able to visit popular destinations, like Mykonos and Santorini, without fighting for space and find locals less stressed and more likely to sit down with you for a discussion or a refreshing beverage!
Fans of hiking, cycling, walking or just being outside in general will love October for its mellow temperatures. You can explore, exercise, hike all the castles you can find and discover ruins and monuments around the cities on foot, without melting from the heat or needing to re-apply sunscreen (and deodorant) continuously.
☞ Related: 10 Things You Need To Do When in Thessaloniki
Lastly, if you are after the most affordable holiday options and would prefer to save your money for more cultural activities and excursions, October will be a more wallet-friendly month. The high season is by then officially over so accomodation will be greatly reduced and you can also find cheaper transport options between islands (even though a lot of the routes are cut down starting in October, so it pays to double-check).
☞ Related: An Autumn Guide to Greece – Where to Go and What to Do
Where to travel in Greece in October? 
By now you realize that the best destination is the one that covers what you seek! There is no reason why October cannot be enjoyed in Mykonos, Santorini, Athens, Nafplio and of course the warmest option of the lot, Crete island.
However, we really want to emphasize Thessaloniki for October because it offers unique experiences that you won't get if you come in other months.
Thessaloniki is often referred to as the co-capital of Greece, which might seem like a weird but it makes sense if you know how much of a beloved destination it is. 
It is also the second largest city, with a vibrant nightlife scene, the most Byzantine monuments you can find in the country as well as the world, and a popular choice for university students. It is also only a few hours away from stunning beaches that can be found on the Halkidiki peninsula. And yet, it is relatively unknown outside of Greece and criminally underrated.
As a summer destination, Thessaloniki welcomes international visitors from the Balkans, Eastern Europe and Russia with options for flying or driving for some of the closest neighbours. While a mainland destination locals love to say their beaches are some of the best in the country and in terms of culture and food, you are sure to be spoiled for choice.
As a summer destination, Thessaloniki welcomes international visitors from the Balkans, Eastern Europe and Russia with options for flying or driving for some of the closest neighbours. Locals love to say that their beaches are some of the best in the country and in terms of culture and food, you are sure to be spoiled for choice.
☞ Related: Food You Absolutely Need to Try in Thessaloniki
Events and Festivals in October
Thessaloniki is an ideal destination for October for many reasons but partly because of how many festivals and events take place here in this month.
National Oxi Day – This is one of the biggest national holidays in Greece and while you can enjoy it from every location, Thessaloniki really puts on a great show. "Ochi" means "no", and that is how this National Day of Independence on the 28th of October has come to be remembered. In 1940, the at the time prime minister Ioannis Metaxas, refused the request of the Italian Axis powers under Benito Mussolini to pass through Greece. According to some accounts he responded with one word, "no". While there is also an alternate view that he uttered the phrase "this means war" in French. Regardless, Greeks remember the bravery of the soldiers who went up against the Nazi powers of World War II with huge military and civilian parades and countless people line the streets to witness the event. The rest of the day is spent in celebration.
Demetrius of Thessaloniki –  If you have Greek friends or are just very well informed, you might know that Greeks celebrate name days rather than birthdays (or did nevertheless before the western custom of birthdays became popular). Name days are celebrations on a saint's feast day. Almost every person in Greece has a name day because most Greeks are baptized into the Orthodox church and thus carry a Christian name. A very common name in Greece and other Orthodox countries, Saint Dimitrius's feast day is a big celebration around Greece. Thessaloniki has a double celebration, however, since Saint Dimitrius is also the paitron saint of the city. Don't miss visiting the beautiful and majestic church in the center of the city that is part of the UNESCO World Heritages Sites and dates back to the 5th century.
Dimitria Festival –  Familiar name? This is a month long festival that often takes place around September to December but is mostly concentrated around October. An annual festival, it has become one of the most important cultural traditions of Thessaloniki for more than 50 years. The municipality of Thessaloniki organizes countless events, exhibitions, dances and cultural events for young and old.
Chania Film Festival –  A festival that has been a recent addition to the island of Crete, is the Chania Film Festival, which takes place annualy around the last week of October and lasts until the first week of November. More than 150 screenings for people of all ages, from documentaries to fiction and animated movies. Even if you are not there during the festival dates, the CFF organizes educational nights and screenings throughout the year, so it pays to check their website for relevant dates.
Navarino Challenge – An award-winning sports and tourism challenge organized by Costa Navarino in the Peloponnese region in southern Greece. With three running routes (21.1km – 10km and 5.4km) and the stunning backdrop of the Ionian Sea, this is a running event people from all over the world seek to experience. 
International Thessaloniki Night Half Marathon – An always eagerly awaited event for the city of Thessaloniki in northern Greece, the International Thessaloniki Night Half Marathon starts at 19:00 PM in the centre of the city and circles around some of the most famous landmarks including the White Tower of Thessaloniki and follows the waterfront avenues before making a loop. The city is a walking museum packed with UNESCO World Heritage monuments, interesting neighbourhoods and trendy bars. 
Greece in October: Average Weather Temperatures 
In summary, October is a lovely in between month that offers plenty of warm days with a visible drop in the temperature as it draws closer to November. For travellers that are not after strictly a beach holiday, it can be an ideal month to explore the Greek islands and mainland and for fitness fans, you can hike, cycle and climb to your heart's delight.
☞ Related: What to do in Thessaloniki for 2 Days – An Itinerary by a Local 
Stay tuned for the next instalment of this monthly series. Twelve months, twelve destinations across Greece, each with something else to offer.