Greece In December -Your Ideal Destinations For Each Month Of Greece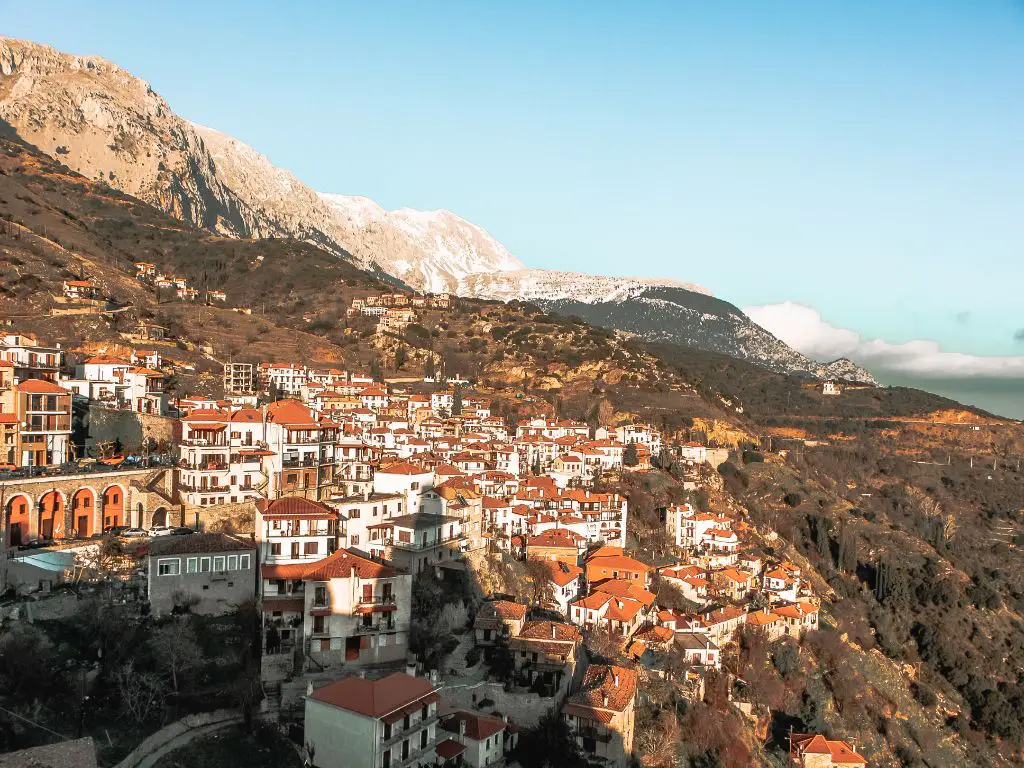 Are you considering travelling to Greece in December?
Temperatures are getting colder, strong northerly winds require you bring out your gloves and scarf but when the sun comes out everything is forgotten. Greece is not the first destination you think of when we are discussing winter tourism but you know what that means?
There are very few tourists going around Greece after October. Take advantage of the reduced prices and the fact there are virtually no crowds or queues to discover some of the most beautiful spots around Greece. You will not be disappointed. 
In December, you can expect to see snow in the mountains! 
What do you need to pack for Greece in December?
In years past, getting a white Christmas was pretty common around Greece. However, call it the changes of the seasons, global warming or some other phenomenon but there has been a shift in when the cold winter front sets in now and it is not until January. Nevertheless, early December can be blessed with blue skies and mild days that are perfect for sightseeing and exploring. The higher altitude destinations and most of the islands, especially those of the Northern Aegean, are visited by strong winds and rain so a good waterproof jacket will be needed. In general, you should pack for a cold winters day with plenty of lighter layers to accommodate those warmer days, fingers crossed!
The islands are considerably warmer but can be hit hard by winds so come prepared.
What kind of

traveller

enjoys Greece in December?
The type of traveler who enjoys Greece in December is after a different view or perspective on this popular destination. You will find a limited number of organized tours to the top tourist destinations such as Mykonos, Santorini or Crete but do not let that hold you back from experiencing Greece in the off-season. All it takes is a little bit of planning or the free-spirit of a solo traveller who dares to go at it alone.
❣️ We can help! Our passion is to share this wondrous and storied land, both the known and the not-so-known, with you. For an itinerary plan or someone to guide you through Greece solo, with your family or friends, we can help you explore the hidden paradise you have always dreamed of. 
If you are a fan of winter sports, hiking, photography or village life then December is a great option as well. Snow season is usually underway by mid-December so if you are dreaming of hitting the pistes in the Greek mountains for skiing or snowboarding then you will find affordable prices and great options all around the country.
Culture enthusiasts, history buffs and anybody that hates to wait to get into museums. Does it matter if it is raining or if the wind is howling if you are warm inside with a good book learning more about Greek myths or the Peloponnesian War? No, it doesn't. Athens and Thessaloniki are major cultural hubs that when combined offer visitors a glimpse into Ancient Greece the Byzantine Empire, the Roman Empire or all three, depending on where your interests lie. Since December is a quieter month, arriving in the off-season means you get to slowly make your way through museums and galleries that interest you, discuss at length with archaeologists, tour guides and historians that are also on their off-season and thus considerably more relaxed and take better photos of the sites.
☞ Related: A Free Walking Guide For The Best Monuments in Athens 
Where to travel to Greece in December? 
This is a relatively unknown spot on the slopes of Mount Olympus at an altitude of 700 meters. It is a traditional settlement that took its name from the church of Saint Panteleimon. Stone houses, cobbled streets and the smell of firewood coming through the chimneys are the things that instantly come to mind about this charming little village. There is no need to remember addresses because you will have to walk around the whole place eventually.
If you are a fan of good food and relaxation, this is the best spot for an extended romantic weekend. Palaios, which means old, Panteleimonas is a small village but don't worry about running out of things to do. There are mountain or beach excursions depending on your mood, charming sweet-smelling cafes and some amazing restaurants where meat is king so come prepared to taste the local delicacies of kontosouvli and kokkinisto, meaning red. The latter is usually a variation of braised beef or other meat in a tomato-based sauce.
☞ Related: Our Bestseller Trip: Athens, Santorini, Crete, Mykonos
While an isolated and small village, Palaios Panteleimonas has a lot of passionate young people that have chosen to base themselves there and focus on the development of the area. The shops are well kept and tastefully decorated, most people describe this village as walking through a museum, and there is a great variety of high-quality local produce available like teas, local herbs, honey, liqueurs, tsipouro, handmade soaps and souvenirs for purchase.
Meteora 
Meteora is a complex of monasteries in the Northern part of Greece that can be described as magnificent and awe-inspiring. A spiritual destination if you so wish it to be, Meteora combines its impressive landscape with seven monasteries perched on top of huge boulder rocks that were built in the 14th century by monks. The inaccessible terrain became a sanctuary for practitioners of the Orthodox faith and their importance has been recognized by UNESCO as World Heritage Sites.
☞ Related: A Guide To The UNESCO World Heritage Sites of Northern Greece You Have To Visit
There is no telling how the weather will be in Meteora in December. I have experienced blue skies and warm days as well as heavy snow. Both settings offer a different experience. While visiting at least one of the monasteries to learn more about the history and religious significance of the area is a must, do not think that this destination is only for the faithful. You can spend your time hiking, exploring the city of Kalabaka, dining on hearty lamb stew dishes, sampling the local wine and discovering hidden caves.
Events and Festivals in December
It's beginning to look a lot like Christmas! Le'ts explore some of your December in Greece options for events and festivals all around the country. 
All-around Greece
25th December – When we talk about celebrating Christmas the Greek way, we are talking about the two weeks between Christmas Eve and the day of the Epiphany on the 6th of January. One of the ways you know Christmas has arrived is the desserts that pile on storefronts and penetrate your senses everywhere you turn. Think about honey cookies (melomakarona), almond cookies (kourabiedes) and of course christ-bread or christopsomo which is decorated with a cross and served with dinner.
31st December – New Year's Eve in Greece can be a pretty standard affair to that of the rest of the world. Yet, if you get the chance to attend New Year's Eve dinner with a Greek family you might observe a few differences. For starters, this is the day Saint Basil arrives with his presents so if there are children around they will be waiting for Santa. Secondly, after the clock strikes midnight the Vasilopita (Basil's cake) is cut. This is a special cake containing a coin that if you are lucky to receive you get wishes of health and prosperity for the whole year. After the family has celebrated together, the kids and those partial to a bit of partying are able to go celebrate the rest of the night away with their friends.
Location Specific Events
1st December – 4th January Drama Oneiroupoli – For more than 16 years, Oneiroupoli, meaning dream city, has been enchanting young and old with its colourful and expansive Christmas decorations that spread around this huge public park. Think countless events, concerts and activities in a magical location that is worth making the trip to northern Greece for.
Chios New Year's Eve Ships – If you happen to be outside on the night of the 31st of December on the island of Chios, you will be witness to a beloved tradition of the island people, the Santa Ships. Teams of people that have worked hard all year carry model ships of sometimes 6 or 7 meters (usually military) around the town and end up in the city square where the best ones are awarded. What is less obvious, is the songs, carols, blessings, jokes and satirical comments that accompany this parade. These are just as much worked on as the actual construction of the ship, with the older and more experienced members of the community offering their playful couplets.
This tradition has unfortunately dwindled in recent years, with only four teams participating in the last two years, compared to the twenty or more that used to before.
☞ Related: South Chios Island in Greece
Greece in December: Average Weather Temperatures 
We talked about the weather in Greece in December a bit at the start already. Depending on location, altitude and luck you might get a sunny winters day or a bit of rain and wind.
Athens has a mellow average temperature of 8-15 degrees and you can expect at least 6 days of rain in the duration of the month.
The capital of the north, Thessaloniki, has a similar amount of rain but lower temperatures of 11 C to 2 C
On a good day in Crete, the temperature can go as high as 20 C but lows of 10 C are still very much expected.
☞ Related: Your Master Guide To The Greek Islands & Where To Go
❣️ Are you interesting in travelling to Greece in winter?
You may be interested in our guides to January in Greece and February in Greece as well.